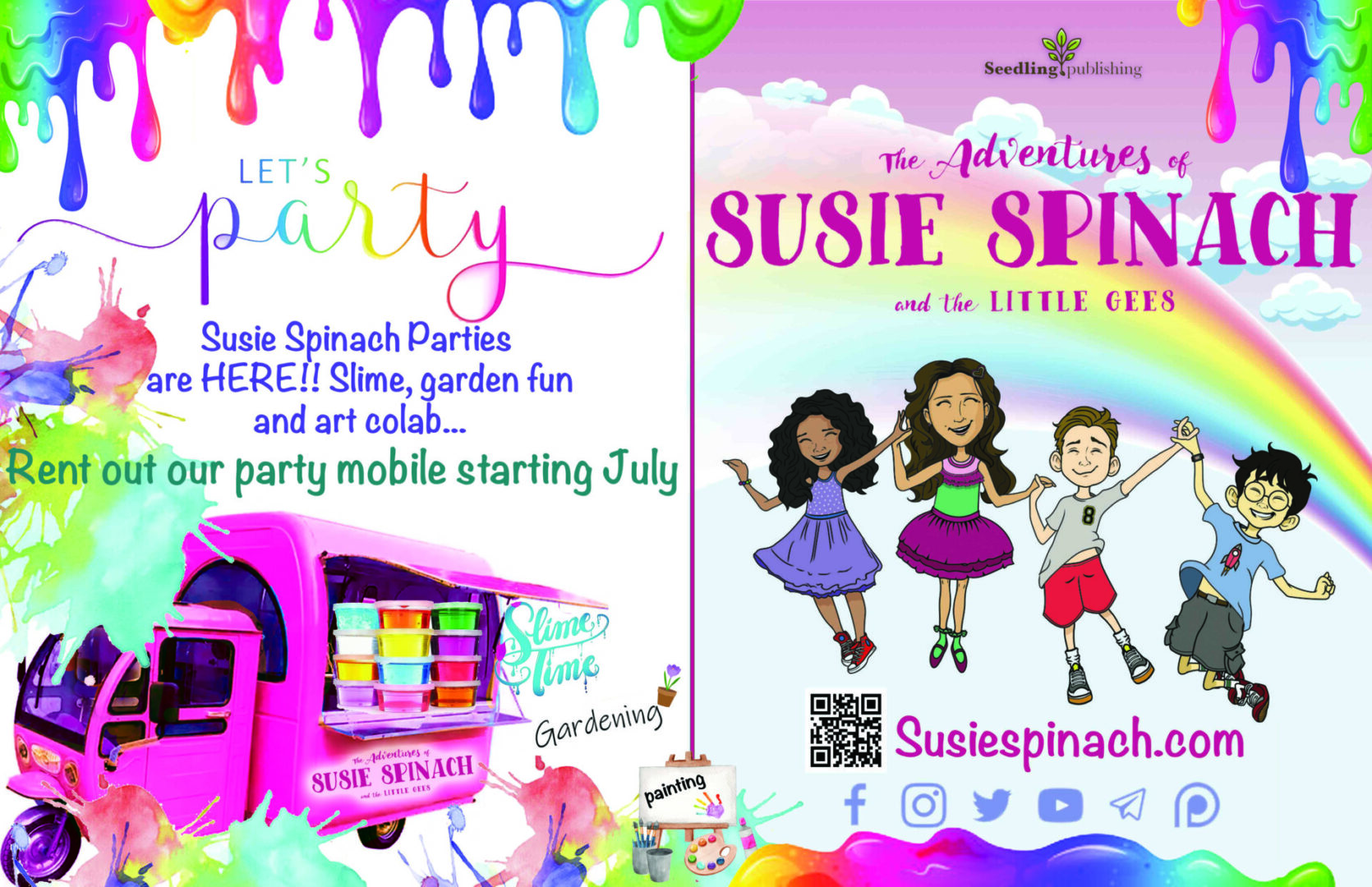 Choose one of our amazing packages and you won't regret it. Kiddos love our party kits and we 
hope you do too. With our slime time, painting, or seedling package, your kiddo can be creative  and adventurous. Kiddos can have a blast rolling up their sleeves and diving into an assortment  of fantastical projects. What are we cooking up next? Be on the lookout... We are creating a Susie Spinach craft mobile to better assist in our mobile  parties. We are also planning to add many more party themes as the year progresses. Don't forget to subscribe to our mailers for deals, as our subscription party boxes are underway.  With these, you can create your Susie Spinach crafts any day!! Check out our SHOP and pick your SLIME Adventure Party Boxes for your next party.
Slime Parties ONLY available in the Chicagoland Area. However, we can make exceptions if planned far out and additional coast can be negotiated.
Package 1: SLIME Spectacular Adventure Party! (1.5 hours duration)3 to 8 kiddos
- Kiddos can create their own slime up to 3 types - we include all ingredients
- Texture type: fluffy bubbly, liquidy bibbidi, crunchy bunchy, sparkly dazzly - Variety of premium slime decorations - Variety of slime glitter toppings - Variety of slime scents - Decorative slime containers - Each kiddo gets a decorative crate of all products - Smocks, tableware containers, and shovels included - 1 Party host - Setup and cleanup of table - Birthday cupcake slime with 24kt GOLD flecks and a book from us to the birthday kiddo - Fantabulous Jewelry encapsulated in slime containers - Jewelry type: Silver necklace or bracelet with gem per kiddo - Festive confetti on tables - Mini boba slimes with confetti and gems party gift goodie bag for all kiddos - Price $550 - this includes travel Extras: - 24kt GOLD leaf flecks for all kiddos in the party - $10 per kiddo up to 5 shovels of gold - Each additional kiddo is $50 (after 20 kiddos total the cost will decrease to $20 per kiddo) - 10 Balloons and confetti poppers $100 - Susie Spinach Cake jars created by Bella Sweets Bakery $10 per cake jar - Type: Vanilla, Milk Chocolate, Birthday Confetti, Chocolate/Vanilla - Box of Susie Spinach mini chocolate chip
Package 2: Fancy Artsy Fun! (1.5 hours duration)3-8 kiddos
- Fancy Artsy Fun
- 3 types of canvases (Small, Med, Large) - Variety of puffy acrylic paints - Variety of glitter and gems - Variety of shaped confetti poppers to throw on canvas - Variety of stencils - Birthday cupcake slime with 24kt GOLD flecks and a book from us to the birthday kiddo - Each kiddo has a decorative crate of all products - Smocks included - 1 Party host - Setup and cleanup of the table - Mini boba slimes with confetti and gems party gift goodie bag for all kiddos - Price $450 - this includes travel
Extras:
- Each additional kiddo is $30 (after 20 kiddos the cost will decrease to $10 per kiddo)
Package 3: Planting Golden Seeds and watching them grow! (1.5 hours duration)3-8 kiddos
- Planting Golden Seeds and watching them grow
- 3 to 5 types of veggies or flowers - Growing gardening fun, each comes with accessories: - Accessories: Apron, painted wooden craft, 3 digging tools, organic dirt, watering can,     seeds, decorative signage, gloves - Decorative wooden containers/crates to grow food in - Smocks included - 1 Party host - Setup and cleanup of the table - Birthday cupcake slime with 24kt GOLD flecks and a book from us to the birthday kiddo - Mini boba slimes with confetti and gems party gift goodie bag for all kiddos - Price $650 - this includes travel Extras: - Mini Grow light per kiddo extra $12 - Each additional kiddo is $30 (after 20 kiddos the cost will decrease to $10 per kiddo)